Details
That's right dear people, after more than 10 rocking years, the Dorktones called it quits. The fab three, Rotterdam's own dynamic beatcombo, had their dissolution meeting today, Friday 13th of April 2012.
Realizing that this is a sad day for all, the Dorks sincerely would like to thank you, the true beat connoisseurs, for all your support and encouragements throughout the years.
It has been a fun ride. So long.
Details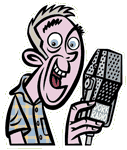 Your Dorktones guitarist and podcast bad-mannered DJ-wannabe W.J. Lobensteyn, a.k.a. William J. le Petomane, a.k.a. Lord Bacon impersonator turned 46 today. Many happy returns William!
Details

May 21 2010 - Pieter M. Dorrenboom, The Dorktones drummer, general manager and art director has turned 45 today!
Many happy returns, Pieter!
Details

Always eager to learn new things, the Dorktones decided to jump on the Twitter bandwagon. We still don't have a clue how (and why) this Twitter actually works but who knows, we may even get familiar with it one day.
So if you'd like to know what William had for dinner last night, what Pieter is wearing today or what gadget Ernie decided to tear apart, just tune into our Twitter channel (or whatever it is called) by clicking here.
Details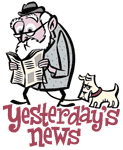 As always, you, our faithful Dorktones.com website visitor, are the last to know about recent Dorktones events.
The Dorks would like to refer you to their brand new (and first ever) official music video. You'll be able to see the Dorks goofing around in the rehearsal booth on their recently recorded version of the soul classic Eternally by Gigi and the Charmaines.
To watch the video, go to a hip and happening little website called youtube by clicking here. And while you're there, please leave a comment to let us know what you think of it.
Details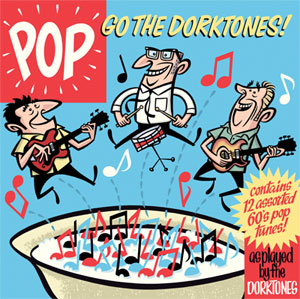 Finally! The Dorktones have officially released their new CD today: Pop Go The Dorktones. And as always, the entire CD can be listened to and downloaded directly from this website. Click here to go to our listening booth and enjoy! Don't forget to let us know what you think of this new masterpiece.
If you fancy the real thing; a real CD with genuine P.M. Dorrenboom artwork and liner notes, just press the button. It will set you back 10 Euro but it includes shipping! Supplies are limited so order now!
Details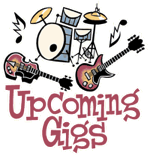 The fantastic Groninger garage-surf band The Monroes are throwing a CD-release party and will be playing at the Exit in Rotterdam on Saturday October 10th. The Dorktones are asked to warm the crowd that very night.
Since the theme of the evening is CD-release and the Dorks are working around the clock to get the brand new "POP Go The Dorktones" out, we thought we'd shoehorn our own little CD-pre-release into the party.
So please come on over to the Exit on the 10th and party with the Dorks, Monroes and the Wild Wild Wild DJ's. Party starts at 21:00. Entrance is only �5,-.
Looking forward to seeing you there.
Details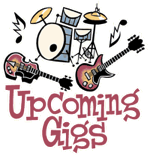 It has been a while since the Dorks updated these pages, mainly because there is just not so much going on in Dorktone land, well, apart from releasing a brand new album real soon. More on that later..
If you ever wondered when you would be able to see The Dorktones perform live on stage again, here's your answer: The Dorktones will play at the birthday party of Antwerp�s famous DJ Dirk Ungawa at Bar Mondial with Miss Schwarzkopf, Hank the DJ and of course Dirk Ungawa himself spinning their favourite records. This will be The Dorktones first gig abroad, so be sure not to miss this historical event! Entrance is free and all 6t�s afficionados are welcome on friday 16th January 2009 at Bar Mondial in Antwerp, Belgium.
Details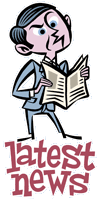 It has been a while since you last heard something from the Dorktones. Reason being that your favorite dorks where busy recording tracks for their upcoming new album. And although it is still a work in progress, we decided to put a little teaser out to give you a heads-up. There is no firm release date for the new album but watch this space for updates.
To hear our little pre-release, click here and listen to Vagrant Winter. Don't be too shy to leave us some feedback.