�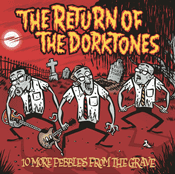 Wow! It took some 8 months to complete but this new year saw the birth of the 'new' Dorktones CD cover. While the actual songs were available here online for months, we couldn't supply you with some fabulous, Pieter M. Dorrenboom signature, cover art. Well, up until now that is.
And so... nothing stands in our way to officially release the latest Dorktones recording: The Return of the Dorktones, a wonderful piece of home recording, available for your download pleasure and even available in our 'shop' if you want the real deal with liner notes, credits and stuff.
Come on in, listen to it and give us some feedback.