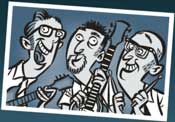 We know it is very short notice but still we would like you to come and support us today, Saturday 26 March when we play at Ron's Garage Freak-out. This mini-festival takes place at the Q-Bus in Leiden (that's in the Netherlands).
Your support is much appreciated, especially now since W.J. is whining and moaning about a painful arm and our drummer suffers from a severe case of diarrhea.
So put your dork gear on and head over to Leiden to see and hear The Dorktones, "the loudest band from Rotterdam".