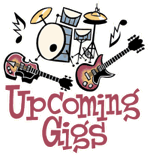 It's true, the dorky dorks managed to get a gig at the world famous Dirty Water Club in London!
The Dorktones will play there on friday 29th September. Also playing that night are our fabulous beat combo friends The Madd. Check out the Dirty Water Club website for more information.
Please come over and party with your favourite dorks and The Madd!