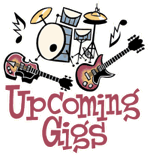 The fantastic Groninger garage-surf band The Monroes are throwing a CD-release party and will be playing at the Exit in Rotterdam on Saturday October 10th. The Dorktones are asked to warm the crowd that very night.
Since the theme of the evening is CD-release and the Dorks are working around the clock to get the brand new "POP Go The Dorktones" out, we thought we'd shoehorn our own little CD-pre-release into the party.
So please come on over to the Exit on the 10th and party with the Dorks, Monroes and the Wild Wild Wild DJ's. Party starts at 21:00. Entrance is only �5,-.
Looking forward to seeing you there.