�
The Sound of Music is a great little powerpop trio from Rotterdam, the Netherlands. They play their own tunes and some borrowed material. They also have a sixties-garage-punk playing alter ego-band called The Dorktones. Same guys, same gear, same vibes, different name. You can hear all recorded material from The Sound of Music and The Dorktones in the Download section.

What about this "Aap"?

When they first started, The Sound of Music was a four-piece band. Then, suddenly, somewhere in 2000, the fab bassplayer Aap decided to quit the band (well, some say he was kicked out by P.M. Dorrenboom after a bad haircut or something along those lines), leaving the other boys without Aap, hence the name Band Zonder Aap. Aap's departure had a major impact. The remaining band members decided to radically change their repertoire from powerpop to dutch pop traditionals. Months after Aap, the guys managed to recuperate. Since then they're back on track, playing their true repertoire.

Where did they come from?

Well, The Sound of Music / The Dorktones evolved out of a strange collection of other bands. Check the 'timeline' below and click on each band to hear an obscure sample: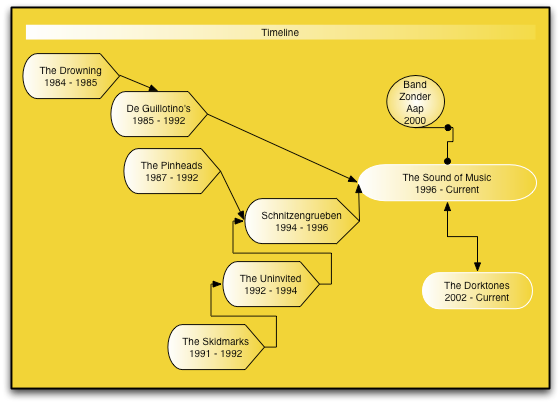 Not all current band members played in all of the above bands:
| | |
| --- | --- |
| | W.J. Lobensteijn played with The Pinheads, The Skidmarks, The Uninvited, Schnitzengrueben and Band Zonder Aap. |
| | P.M. Dorrenboom did some appearances in The Pinheads and played with The Uninvited, Schnitzengrueben and Band Zonder Aap. |
| | E.C. van Kruining played with The Drowning, De Guillotino's and Band Zonder Aap. |
And together they are.....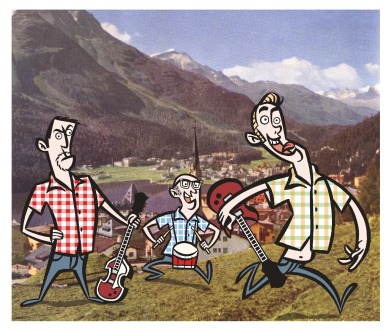 �