Details
The Dorktones website has been thrown back into the dark ages after a major server crash last week. Being the opportunistic and trusting fellows that they are, the Dorks did not have a proper backup of all the digital bits and bytes.
Fortunately this website does not get frequent updates so you will hardly notice that we took a year old system and promoted that to the current system. There may be still some glitches with the site and for that we do apologize.
Details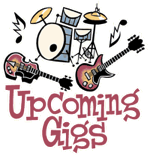 Fancy a pretty party in Amsterdam? Come to Maloe Melo on Saturday July 21st for the first edition of it's a happening, a garage, [northern] soul, psych and beat soiree with DJ's The Happening. Oh, The Dorktones will perform some of their tunes too. Get more here.
Details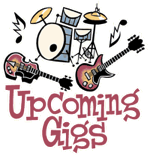 After the fabulous party thrown by the Happening girls, the Dorktones are again scheduled to travel to Amsterdam to make some noise. On the 13th October they will play at the third To beat or not to beat festival in Amsterdam. Check out the details here.
Details
If you know the Dorktones drummer and illustrator Pieter Dorrenboom, you will know that he is everything but a pretentious arty-fart. However, once in while our lovable, down to earth, mod-wannabe is invited by his industry peers to join an art exposition. This easter weekend it's that time again. Pieter drags himself to Amsterdam to mingle in the art-loving in-crowd to talk about, and possibly sell some of his fantastic work.
If you find yourself wondering what to do this easter, head over to Amsterdam and visit the garage sale cash & carry art-shop. Look for these distinct P.M. Dorrenbooms and you'll bound to meet their creator too.
Details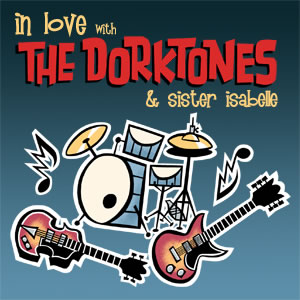 Get The Dorktones latest recording efforts for free! The Dorktones just released their new recordings exclusively on this website. Go to the download section on the left and listen to these two new Dorktones gems.
Details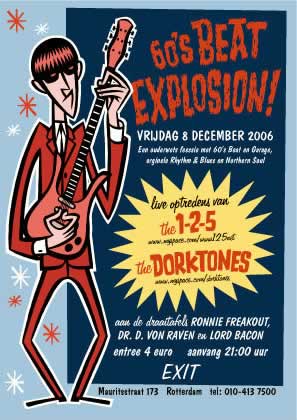 Lately, all Dorktones gigs where somehow cursed.
The UK gig had to be cancelled and before that, the bad taste bass player got stuck somewhere in transit so the gig at the Exit had to be cancelled too.
Pieter, our beloved Dorky drummer and art-director, felt guilty enough to organize a party in order to make up for the missed and messed-up gigs.
So now the Dorktones are scheduled to perform at the EXIT in Rotterdam on December 8! Here's your chance to catch the Dorks live! Lift the curse and come on over to Rotterdam! Our dear friends of the 1-2-5 will also perform and DJ's Ron Freakout, Lord Bacon and Dr. D. von Raven will spin their records like there's no tomorrow!
Details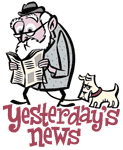 Your favorite little garage beat bubblegum combo, the Dorktones, made a quick visit to the world famous Wisseloord Studios last Monday. Our dear friend De Schuinsmarcheerder invited us to come over to record one or two tracks in this great studio.
After the initial shock and awe of being in a real big-time studio, we got to work and committed two mellow bubblegum soul tracks to tape. The tracks still need to be properly mixed but so far it looks like we're going to be huge again in China!
We'll publish them here once they're done.
Details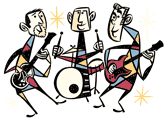 The Dorktones are a hit in China! Somehow the remix version of our track Wouldn't you love to hate me found its way into some Chinese chart. We can't figure out what chart it is because none of the dorks read Chinese but according to our website logs, the song has been downloaded close to a thousand times within the last few days! Check out the link and if you understand what it reads, please let us know.
Details
The Dorktones can't perform at the Dirty Water Club in London next Friday due to some unfortunate unforeseen personal circumstances. We'll try to reschedule. More to come.