Details

October last year the Dorktones, lead by famous illustrator Pieter M. Dorrenboom, performed live at the Exit in Rotterdam. Somehow, through some twist of fate, they are invited back to perform again at the Best of EXIT night on friday 30 june.
Please stop by if you like. EXIT here.
Details

The Dorktones would like to apologize to the Thunderdays audience at the Waterfront Cafe in Rotterdam, for their appalling performance on the 27th of April. Dorktones singer & guitar player, W.J. Lobensteyn, said he suffered bad-hair-day.
Bad hair or not, W.J.'s cheap crap amplifier broke down just 5 minutes into the performance. The thing got stuck in overdrive. W.J. was so distracted by this that he completely lost his composure and musical sense. He subsequently played the wrong chords, sang the wrong lyrics and sometimes didn't play and sing at all. He just stared at his little broken amp. The two other dorks tried their best to save the show but there was just little they could do.
After this dreadful performance, W.J. was asked what it felt like on stage: 'I felt like standing there all alone, just wearing my polka-dot underpants. Pieter, the Dorktones drummer, swiftly added: 'That would have been a much better show!'
Hopefully the new Hughes & Knetter amp that W.J. bought will save these dorks for further embarrassments. Find out, if you dare, at their next show in Leiden, May 13th
Details
Dorky Dorktones drummer and art director, Pieter, is having a garage sale next weekend. Here's your opportunity to become the proud owner of a genuine Pieter M. Dorrenboom collectable.
The sale will take place in the Chiellerie in Amsterdam, April 15,16 and 17. Entrance is free. For more information click here.
Details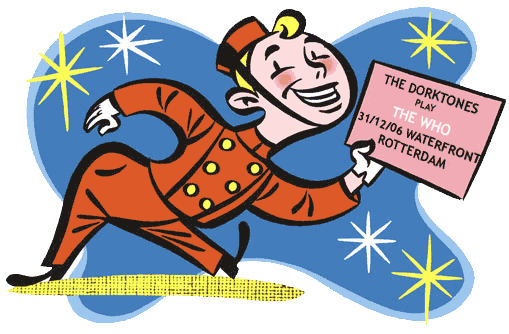 Next to the Thunderdays venue, the Dorktones will perform live on two other occasions in the near future. Come check us out at one of these events:
Thursday 27 April 06: Thunderdays (Waterfront), Rotterdam
Saturday 13 May 06: Bar & Boos, Leiden at Ron's Garage Freakout Party, together with the fabulous Miracle Men
Sunday 21 May 06: De Cantine, Amsterdam

The thing in Amsterdam is in fact a double header: The Dorktones Live AND the exposition of the work of our genius art director P.M. Dorrenboom.
Details

The Dorktones will perform their dog and pony show at Waterfront in Rotterdam, the Netherlands on Thursday, April 27th. If you're in town, please drop by and say hi.
Get more details on the Thunderdays website.
Details

The Dorktones would like to celebrate their one year podcasting anniversary by releasing enhanced versions of previous non-enhanced Dorktones.com Podcasts. Starting today we re-release six previous casts through our enhanced podcast feed. Subscribe to this feed here, or download individual files here.
Details
With a whopping 37% of all votes, W.J.'s New Wave Memories is the clear winner in our Podcast-Special Poll.
We would like to thank you all for casting your votes and hope you will enjoy the upcoming episode. We are aiming for another Thursday release, depending on W.J.'s ability to recollect his New Wave memories, and Ernie's post-production skills.
Details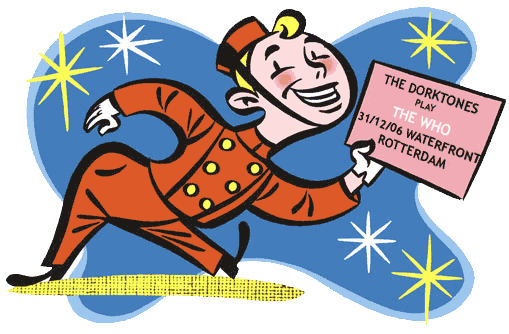 It has been a while but on friday 27 januari, the Dorktones will play their sloppy shit again. This time we'll be performing at the Amsterdam Beat Club that will take place in Maloe Melo in Amsterdam. Check their site for details. We hope to see you there!
Details
It's time again to cast your vote on the next Dorktones.com Podcast special. We have a few options lined up for you to vote on:
�
Popcorn Special
Dutch Delight
Frank Zappa Mayhem
Ernies Bombastic Favorites
W.J.'s New Wave Memories
Pieters Slavesex Party
Jazz For Wimps
�
To cast your vote, select your favorite special in the poll on the left hand side of this page.
Details

Some time ago we started experimenting with a new dork-studio setup in order to record some of our current tunes. Goal is to record some tracks to put on a future vinyl 7" single.
We are now mixing the test recordings to give them our genuine dorky sound but we would like to have your feedback on our effort.
Here's one of the test-songs. It's called Birthday Cake and was written by our very own W.J. Lobensteyn. Download and enjoy! Consider it our Christmas gift to you.
Please let us know what you think of it by leaving a note here.