Details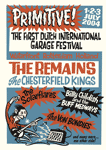 �Our fabulous art director, manager, drummer and all-round nice chap P.M. Dorrenboom has produced another work of art: the new official Primitive Festival flyer.
Before you get your hands on the real thing, here is a preview. Click on the image to enlarge and remember, you saw it first on this official Sound of Music / Dorktones website!
Details

It�has now been confirmed that the Sound of Music will perform at the Primitive Festival on Saturday, July�3 in the afternoon. We will be playing at the Waterfront Cafe instead of the main stage, which we like even better because of�the cosiness and the fact that the bar is only two feet away from us!
Details

Our researchers did a marvelous job in finding a little gem in the vast Sound of Music archives. The song is a 4-track demo recording and features the Sound of Musics lead singer and guitarplayer. The experts aren't sure about the exact date and time of this recording but think it's about 30 years old.
Today, we are proud to be able to publish this work of art, a world premiere. Come and listen to it here.
Details

It seems that the Dirtbombs gig on june 3 at the LVC in Leiden, where the Sound of Music would first appear as support act and later were degraded to do an afterparty gig in the attic, has been canceled. We don't have further details about this, it seems that our manager, who also is our drummer, has accidentally set fire to his house after doing a reinstall of Windows.�
�
Details

Through some strange twist of fate, the Primitive festival website does not list your beloved combo, the Sound of Music, or even the Dorktones for that matter, as active participants to the venue.
The case is under thorough investigation by our representatives. We keep you posted because we don't want you to come all the way to Rotterdam and not be able to see the legendary Sound of Music, or even the Dorktones for that matter...
Details

For the�fifth week in a row The Sound of Musics lead singer and guitarplayer has not broken any string on his guitar, and thus sets a personal record.
We have to admit though that the Sound of Music only rehearsed four times the last five weeks, but still we think it's quite an achievement.
Details

The first Dutch International Garage Festival, Primitive, scheduled 1-3 July 2004 in Rotterdam is getting attention on the net! Some online forums are covering it and it's even mentioned on this site.
Details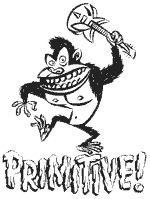 The Sound of Music will be performing their Dorktones reportoire at the First Dutch International Garage Festival in Rotterdam, the Netherlands. The fesitval will take place July 1 till 3 2004 at Waterfront in Rotterdam.
Other performances include The Remains, The Chesterfield Kings and The Solarflares.
Please come to Rotterdam to support us!

More information on Primitive can be found here