Details

November 22 - This week we celebrate the 37th or 38th birthday of our beloved bassplayer Ernie.�Not only�we don't know the exact age he is becoming; we don't know the exact day either! We guess it's on the 25th, but we can be wrong.
Anyway, Ernie will be spending his birthday (and the next four months) in front of his newly purchased wank-o-matic lcd-tv.
Many happy returns Ernie.
Details
Well it took weeks of digging through the archives, digitally re-mastering old magneto compact cassettes and analyzing piles of rubbish. But in the end we managed to compile a comprehensive piece of ancient band-history. Although we fully realize that nobody cares a monkeys ass about this stuff, it still leaves some holes to fill. We keep our researchers busy and expect some additional crap later.
Check out the bio section of this website to see how the Sound of Music came about and hear some old and obscure recordings
Details
Again, our excellent researchers did some outstanding work in digging up some of the earliest Sound of Music recordings. They even found some recordings of previous engagements of our beloved band members. This sparked off the idea to create a band timeline, yes even, the genealogy of the Sound of Music.
As we will report more on this ambitious project in a later stage, let us reveal some of the earlier recordings. Click here for a sample.
Details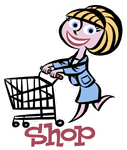 Ever wanted to get your hands on a genuine Sound of Music or Dorktones CD, right from the source, with unique P.M. Dorrenboom artwork and liner-notes? Here is your chance to get some. We have opened up our online shop to enable you to get the real thing! Come on in and browse our catalogue. And hey, we even have a collectors item T-shirt for sale!
Details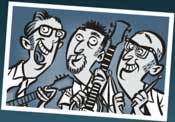 July 4. Yesterday we had the privilege to open the third and final day of the Primitive festival. All went well and we look back at a splendid gig thanks to all that came and supported us. Thanks!
There were some pictures taken and maybe someday we'll publish them here.
We look forward to see you again when we play a venue near you.
Details

We would like to express our gratitude to Carlo, owner of Studio Speelonk, for allowing us to make some noise at our Primitive gig. We may use his typical 'vintage' equipment instead of our own, steam-driven, toy amps.
Thanks for your support Carlo!
Details

Last night, july 1st, the fabulous Solarflares called on our own P.M. Dorrenboom to help them out. Parsley, their keyboard player, forgot to bring his organ to Rotterdam... So who better to help them out then Pieter, owner of a vintage Farfisa organ. Unfortunately for Pieter they didn't use it at the gig. They found another organ elsewhere. Bummer Pieter, better luck next time!
W.J. Lobensteyn had the time of his life. After the Solarflares gig, he was allowed back-stage and recieved a firm wet hug from frontman Graham Day!
Details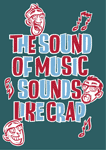 The Sound of Music is exploring the wonderful world of merchandizing! Postcards, bumper stickers and T-shirts are all in the works. To view a sample of the T-shirt artwork, click here. The merchandize, together with the original Sound of Music and Dorktones CD's, will be on sale at our gig on saturday,�July 2nd at the Primitive festival in Rotterdam. There are no plans to make the merchandize available through this wonderful website, so come and see us and get your unique Sound of Music gear directly from the Dorks!
Details
Again some news on The SoM's drummer. Apparently he is the only bandmember with an exciting life. Lord Bacon, an alter ego of P.M.

Dorrenboom, is not only performing with The Sound of Music at the Primitive Festival on July 3, but is also appearing as a DJ on the festival. There are no details on which days he is going to play his old scratchy vinylrecords to the public, but we're sure you'll enjoy what he has to offer you.
Details

�July 1 - Today we celabrate the 40th birthday of our DJ-wannabe, singer, song-writer and lead guitarist W.J. Lobensteyn.
W.J. will enjoy his birthday this evening at the Primitive festival in Rotterdam where he hopes to meet and greet one of his favorite bands, the Lyres. We hope they will sing a special birthday-song for W.J.
So from all of us here at the Dorktones network operating center: happy birthday dear W.J.!