Details
This is just in: The Dorktones will play live again on december 10 at LVC in Leiden. No details yet but mark your calendar! More to come.
Details

What could possibly be the odds of spotting a Dorktone in the wild? Well, last weekend it happened to our friend Paul. While visiting the wonderful Efteling theme-park he bumped into Ernie, the bad-taste Dorktones bass player.
Ernie was staring dazed and confused at the Frog Prince in the fairy tale forest, wondering how these frogs manage to lift the golden ball by just spitting at it.
Brave Paul walked up to Ernie and asked: "So they do let you out then, do they?". Even more dazed and confused, Ernie replied: "Ehrr, only in fairy tale forests".
Before Ernie could find a pen in order to give out an autograph, Paul was gone.
Details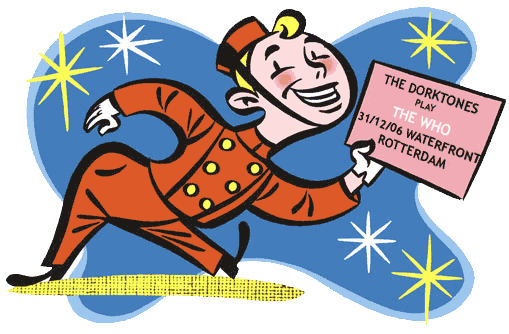 This is just a friendly reminder that your favorite jazz combo, the Dorktones, will play next thursday, october 20th, live at the Exit, Mauritsstraat 173 in Rotterdam. DJ Jeroen "Radio Razor" van Beek will kick-off the evening at nine, followed by the Dorks around ten. DJ Dave of the Madd will close out the evening. Entrance is free!
Come over and see how W.J. tries to handle his new cry-baby wah-wah pedal. Bring your friends!
Details
The great folks at podcastdirectory have chosen our little Dorktones.com Podcast to be one of the listed podcasts in their featured podcast section on their website. So head over there and check it out. Also notice that our cast is listed in their highest rated list as well. Great stuff!
Details

We have a clear winner folks: Downtown was voted most favorite podcast intro by a landslide with almost 45% of the total votes! Congratulations to our DJ-wannabe, William J. le Petomane for putting together such a fine work of art. Keep 'em coming!
Thank you, dear readers, for your votes and please participate in our next poll where we ask you what podcast format you like best: regular or enhanced. Cast your vote now!
Details

The Dorktones will perform live at the EXIT in Rotterdam. That's right! On Thursday 20 October The Dorktones will perform a full-length gig. As far as we know, admission is free. Music starts at 22:00.
EXIT is located at Mauritsstraat 173, Rotterdam. Come check us out and bring your friends!
Details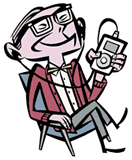 Sometimes weird stuff happens. Somehow a reporter from The Washington Post found our Dorktones Podcast and decided to mention us in his aricle about podcasting:
"The Dorktones, a clever, slightly randy crew of Dutch rockers, put together one-hour programs of campy and wry song selections" [...]
Obviously the nice reporter missed the mark there with clever, but besides that, we think it's a pretty neat endorsement.
You'll find the story here.
Details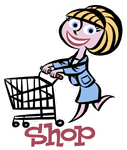 We decided to close our online shop because the folks at paypal again changed their back-end stuff so nothing worked anymore. Too bad. But no worries friends, if you would like to order a genuine Dorktones CD or a Sound of Music CD or T-shirt, just send your request to the shop and we will take it from there.
Details
Our Dorktones.com Podcast DJ, William J. le Petomane, has a talent for creating intro's for our podcasts. We thought it would be fun to create a Dorktones.com Podcast Intro Top-10 where you, our beloved podcasts subscribers, can vote for your favorite intro.
We actually only have nine intro's but that shouldn't hinder you in casting your vote. So to get you going, here are the intro's:
Select the one you like best in the poll section on the left side on our website and watch the results. If you have comments or suggestions, you can send them to This email address is being protected from spambots. You need JavaScript enabled to view it. or click here.
Details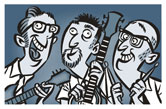 One of our favorite online activities is to google the net, looking for Dorktones. This week we stumbled across a fabulous review of our podcast by Dani from the US. On her blog she writes:
The Dorktones are a retro-1960s band from the Netherlands, but the show doesn't feature their music. This is a weekly one-hour podcast all about the rare soul, surf, and powerpop gems that their DJ manages to unearth. Although most of the music was recorded in the 1960s, DJ WJ will toss in songs from any decade if they fit the vibe. A recent theme show (#18) on psychedelic music has some "groovy" commercials thrown in, and it is a hoot. Even the artwork on the site has that 1960s feel. The DJ's accent was a little difficult for me to understand at first, but he doesn't talk that much so it isn't distracting. This show is an all-around good time.
Thank you Dani for these kind words. Keep subscribed, 'cause there's a lot more to come!